Sign up to our to our Villas Away Newsletter Don't miss out on any special offers and news of new properties and destinations that we are constantly adding to our portfolio.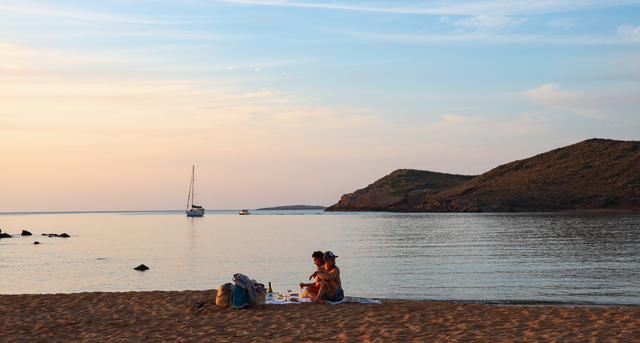 The Best Family-Friendly Day Trips in Menorca
Soft golden-sand beaches. Sun-soaked villages. Clear turquoise water. Menorca is the most family-friendly and relaxed of the Spanish Balearic Islands and it's a delight to explore.
This Mediterranean destination has the perfect balance. It's popular enough to offer a selection of high-quality hotels, villas and sophisticated restaurants, while quiet enough to be tranquil and low-key. With fewer tourist crowds and many stunning beaches to explore, it's the ideal choice for a getaway with the kids.
You can easily spend your days lounging by the pool, but if you're feeling adventurous and in the mood, for a day trip there are many great attractions to discover The island is relatively small and if you rent a car, you can travel across it quite easily. Here are some examples of exciting trips your family will love.
Ciutadella
Take a break from the beach and spend a day exploring the city of Ciutadella. This fascinating historic settlement was founded by the Carthaginians and became a seat of the bishop in the 4th century. It was an important trading centre in the Middle Ages and the beautiful Gothic and Baroque architecture in the city centre is very well preserved – making you feel like you've stepped back in time.
Wander around the quiet, cobbled streets and check out the unique shops filled with handmade local goods. Stop in a local restaurant for some authentic cuisine, then take a stroll along the harbour and enjoy an ice cream while watching the sailboats.
Aquarock Waterpark
On a hot day in Menorca, this is a great way to cool down with the kids. Aquarock Waterpark is located within the resort of Cala'n Bosch and has several waterslides along with a wave pool, a whirlpool and a splash pool for the little ones with water jets and smaller slides.
For older kids, the park also has a go-karting track and trampolines. Plus, there's a restaurant where you can refuel and loungers where you can chill out in the sunshine while your little ones play. Don't forget the sunscreen!
Cami de Cavalls Coastal Path
This trail is a historic medieval bridle path that follows a route around the coast of the island for 115 miles. It will allow you to reach some of the hidden parts of the coast and some pretty spectacular beaches. The route is well-signposted and is suitable for all ages – making it great for a family hike.
You can cover as much or as little distance as you choose. For example, there's a great stretch between Cala Algaiarens on the north coast, going west towards Cala Morell. This route will take you past several gorgeous beaches and is only 3.35 miles long.
Son Bou Beach
You'll find Son Bou Beach on the south coast of Menorca. With 2.5 km of soft white sand, it's the longest beach on the island. It's also an unusual sight – as most of the other Southern beaches consist of small coves and rocky cliffs.
The beautiful clean sand and gentle waves are ideal for kids. If you want to enjoy the water on a pedalo, canoe or jet-ski, these are all available for rental as well.
Plus, there's a petting zoo located next to the hotel and some fascinating prehistoric ruins at Torre d'en Galmes that date back to 1400 BC. You can also see the ruins of a paleo-Christian church from the 5th century.
Castillo Menorca
Let your kids run and play at Castillo Menorca, a family-friendly waterpark and adventure playground. It also includes a go-kart track, a mini boat lake, a trampoline area, climbing frames and more. Plus, you'll find plenty of quiet, shaded areas where you can escape the sun and enjoy a picnic.
There's also a large retail outlet with several shops, so you can pick up some souvenirs and gifts for the folks back home. These shops specialise in ceramic goods, porcelain figures, leather goods, toys and jewellery.
Cales Coves
Another one of the best family-friendly activities in Menorca is snorkelling. The water is clear and warm and there is an abundance of undersea life – including brightly-hued sea anemones, fish and sponges.
Cales Coves is an ideal local spot for snorkelling. You can dive under the water and swim through the caves cut into the limestone. There are more than 100 of these prehistoric caves in this area, which are thought to have been used for ritual burials. (The Romans used this site as the first harbour in Menorca.)
The small beach can be reached by a short walk along a steep gorge, accessed from the road between Saint Climent and Cala'n Porter. There are no facilities here, so make sure you bring along plenty of water and food.
Lloc de Menorca Zoo
 

 

View this post on Instagram

 
If your kids are fascinated by animals (and what kids aren't?) you can take them for a day trip to this zoo, a short ten-minute drive from the capital city of Mahon. You'll see many different species native to the island, including tortoises, fish, goats and birds. Plus, the zoo also has a diverse collection of exotic animals from all around the world.
There are even interactive activities your children can take part in, such as holding the animals or feeding them. You can also enjoy themed walks through enclosures where the featured animals are free to roam around, such as wetlands, aviaries and lemur woods. Make it a full day out by bringing a lunch and hanging out in the picnic and barbeque area.
Menorca: an unforgettable family getaway
If you're planning a trip to Menorca with the kids, there are plenty of fun activities and attractions to keep you busy. 
At Villas Away, we offer holiday villas in excellent locations with enough room for the whole family. Click here to see the selection of handpicked villas and apartments in Menorca and start planning your next trip today!
Popular Posts

Siam Park in Tenerife is already established as one of the worlds best. At the time of writing it has almost 20,000 Google reviews at 4.6 stars! The question is, are you brave enough for the Tower of Power? Opened in 2008, Siam Park is the largest theme water park in Europe. It is located […]

Nestled in the Mijas Costa in the Costa Del Sol is this Beautiful Villa has 6 bedrooms that comfortably sleeps up to 15 people! Holidaymakers can combine all the facilities, beaches and attractions of these seaside towns with trips up to see the original Mijas Pueblo and all the cultural attractions and traditions that it has to offer. Mijas […]
Recent Posts
Siam Park in Tenerife is already established as one of the worlds best. At the time of writing it has almost 20,000 Google reviews at 4.6 stars! The question is, are you brave […]

Villas Away are currently seeking properties abroad to add to our holiday rental portfolio. The team at Villas Away are committed to finding quality accommodation for our guests.  If you own or manage […]

Nestled in the Mijas Costa in the Costa Del Sol is this Beautiful Villa has 6 bedrooms that comfortably sleeps up to 15 people! Holidaymakers can combine all the facilities, beaches and attractions of these seaside towns […]